The UBI Network (https://ubinetwork.org) is a group of volunteers dedicated to finding a practical path to delivering Universal Income to the citizens of the World.
We are examining non-governmental, actionable, software based strategies, leveraging blockchain technology, to make a global single solution to the likely workless future as automation replaces jobs. We want to enable merchants who sell goods or services to send spendable tokens (like modern discount tokens and cash-back program)s to the wallet of every citizen, globally. We will top up the tokens to a monthly minimum with Universal Reward Tokens. This will involve the use of Blockchain to create a Rewards Chain capable of managing the distributions and a company managing the wallets and transactions. We are working on details as a team.
This newsletter is free and gathers together the most interesting content of the week. It is selected due to its topicality or its substance, not because we necessarily agree with the content. Indeed, this week there is much to disagree with …..
---
Feel free to share it with friends, family or colleagues or on your social media:
---
And if you are reading this for the first time please subscribe:
The Economy Is a Giant Vending Machine
Stories by Alex Howlett on Medium
When basic income is at its natural level, the number of candy bars in the vending machine is the only thing that determines how many candy bars consumers can purchase — the economy's productive capacity determines what people can buy.Given that our real-world economy requires labor, the natural level of basic income is the level that's low enough to activate enough labor to stock the vending machine but high enough to ensure that consumers can still buy all the candy bars.
Meet Rutger Bregman — outspoken historian and scourge of Davos - Financial Times
Meet Rutger Bregman — outspoken historian and scourge of Davos Financial Times
Universal basic income – an idea whose time has come
The demand was taken up by the Basic Income Grant (BIG) Coalition initiated in 2003 by Cosatu, Black Sash and the South African Council of Churches (SACC), and including others such as the South Africa New Economics Foundation, South African NGO Coalition, Treatment Action Campaign and the Women on Farms Project.Despite many calls for a basic income grant during Covid-19 in South Africa and around the world, winning a basic income grant that is able to combat inequality and restructure work in a positive way, as a means to an end and not an end in itself, will require massive struggles from below.
Andrew Yang discusses his universal basic income pilot program
Entrepreneur and former Democratic presidential candidate Andrew Yang on Friday talked about his nonprofit Humanity Forward, an organization working to implement trials of universal basic income (UBI) across the country.
Declaring UBI: the pressures pushing ajar the door to greater financial independence for all
As the country lumbers on with the restrictions of lockdown, brought about by the first global pandemic in more than a century, the nation seems to have navel gazed into its past as it searches for a chink of light at the end of the tunnel.
$6 Trillion Should Bail Out People, Not Companies
Going forward, the federal rescue effort should rest on three foundations: 1) It should ensure that all Americans can maintain an adequate standard of living until the crisis has passed; 2) it should backstop essential public and private services; and 3) it should use the bankruptcy process to sort the fates of most large businesses.Millions of Americans may need continued financial support, many more companies could face financial distress, and essential services such as education, transportation and health care could be severely interrupted — especially if the coronavirus resurges in the fall and winter.
Self Sovereign IDs: Your Identity, Your Information
Centralized systems work with one entity, public or private, storing and providing identity information to users.Additionally, there are systems in which there is a limited number of entities that store and provide identity information to users and individuals.
What We Can Learn From Stockton's Universal Basic Income Experiment
Since early 2019, 125 random Stockton residents have been receiving $500 a month to spend however they want. And while the final data hasn't been released yet, we're starting to learn a little more about how that money was spent.
Universal Basic Income Is The Way Forward
I'm talking about the concept of Universal Basic Income (UBI), which has received increasing attention as a way of simplifying the benefits system and meeting other needs.While the world needs to consider innovative ways to mitigate the impact of Covid-19, many – such as both the main political parties in the UK – have dismissed a policy I believe could transform societies, Britain included, for the better.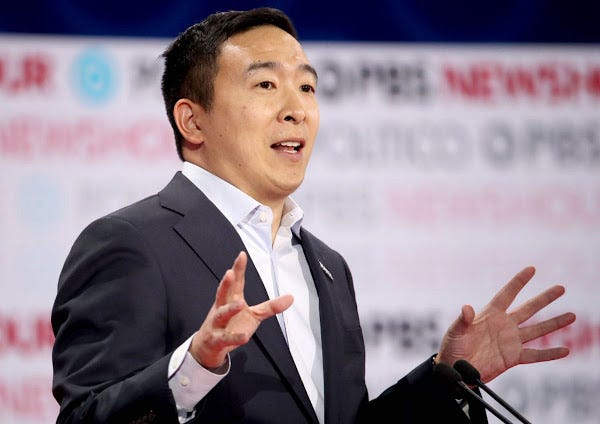 '3-day weekends are better': Andrew Yang says the US should 'seriously' consider switching to a 4-day workweek to boost people's mental health
Andrew Yang – an entrepreneur, CNN political commentator, and former US presidential candidate – thinks the US should "seriously" consider transitioning to a four-day workweek to help boost workers' mental health and offer more opportunities for those with unique schedules or needs.Some studies have shown four-day workweeks increase worker satisfaction and productivity, and Microsoft's Japan subsidiary reported a 40% boost in productivity after trialing the change.
Support for Universal Basic Income growing as economies look to recover from coronavirus devastation
The reason for the renewed, or in most cases entirely new, interest in UBI is the economic devastation caused by the coronavirus pandemic, or more specifically, the resulting lockdowns and social distancing rules that most countries introduced, which put the brakes on virtually every sector of every country's economy.If the Citizens' Initiative manages to collect 1,000,000 signatures from at least seven different EU countries within a year of the start of the campaign the European Commission will be required to consider the initiative and respond.
Basic income | Opinion
So the government brought in the Canada Emergency Response Benefit, which provides $2,000 per month to workers who have lost their income because of the pandemic.A universal basic income would entail every adult in Canada receiving the benefit and, while that would have been a good idea in this pandemic to temporarily support everyone who needed it quickly and with a minimum of red tape, it is unsustainable in the long term.
Food Banks Get The Love, But SNAP Does More To Fight Hunger
Too much milk As part of the new USDA program, though, Borden Dairy won a $137 million contract to send 44 million gallons of milk to charitable organizations, mainly food banks.Donations are up, too, including from a new billion-dollar government effort called the Farmers to Families Food Box Program .
Coronavirus is makes Universal Basic Income look good
'COVID-19 has created a rare policy window where so many people are now tangibly feeling the economic insecurity we've been talking about.' Sukhi Sharma, director, Stockton Economic Empowerment Demonstration UBI had gained currency during the early stages of the current election cycle thanks to the efforts of Andrew Yang, who made the idea the centerpiece of his run for the Democratic nomination for president until he suspended his campaign Feb. 11."This is a moment when the UBI idea is possibly going to feel more appealing to a lot of people," observes Ioana Marinescu, a labor economist at the University of Pennsylvania who has studied what she calls unconditional cash transfer programs.
These Are the Biggest Advocates for $2,000 Monthly Stimulus Checks for Americans
Harris added that "bills will continue to come in every single month during the pandemic and so should help from our government." In the House, Representatives Ro Khanna (D-Calif.) and Tim Ryan (D-Ohio) introduced legislation in April calling for $2,000 for every American over 16, for up to one year."The Senate must provide a $2,000 per month emergency payment for every American until this crisis is over," he tweeted at the time.
Jack Dorsey Gives $5M to Support UBI ⁠— Could Crypto Deliver it?
Jack Dorsey, CEO of Twitter and mobile-payment platform Square, is donating $5 million to Humanity Forward, a group launched by crypto-friendly former presidential candidate Andrew Yang , as part of both entrepreneurs' efforts to establish universal basic income (UBI) for Americans.Nonprofit Hedge for Humanity, the team behind the cryptocurrency Manna, is currently working on a UBI test run for which any asset — cash, stocks, bonds or even crypto — could be used to deliver basic income to those in need.
How does a blockchain-type Distributed Ledger system work?
This control allowed the banks themselves or the public offices to verify that any passages related to new transactions on certain assets were actually possible and above all legitimate.With every change, for example in the ownership of a property and every time a transaction took place, a change was made to the Ledger through a central authority in charge of managing the Central Ledger .
READ MORE